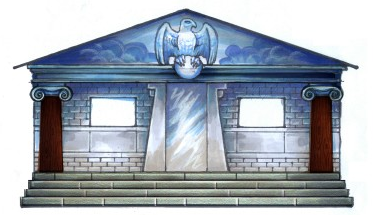 This is Cabin 1, otherwise known as Zeus' Cabin. Here you will find the counselor, co-counselor, and other children of Zeus. They have extraordinary powers and some can even control the wind!
Olivia Pommet (Counselor)
Kyle Packer  (Co-Counselor)
Thalia Grace (Hunter)
Theodora Greene (Hunter)
  
   
Powers/Abilities
Edit
Most Have The Power Over Storms, Thunder, and Lightning.
Can Make Lightning Differnt Colors.
Extremely Special Children Can Usually Make Wind and Windstorms or Tornadoes.
Most Children Are Good At Sports.
Some Children Can Make Electrosphere.
Some Children Can Fly.
All Children Are Very Powerful.
All Children Are Naturals With Swords.
Magical Items
Edit
Chests in Cabin 1 range from 100-150.
Chest 100- Olivia Pommet
Chest 101- Kyle Packer
Chest 102- Grace Olivia Williams
Chest 103- Thalia Grace
Chest 104- Jason Grace
Chest 105- Theodora Greene
Chest 106- Chance Edy
Chest 107- Claire Boyce
Chest 108- Andromeda Papas
Chest 109- A.J. Sparks
Chest 110- Bailey Sparks
Chest 111- Chris Sparks
Chest 112- Joseph Trinket
Chest 113- Skyler Reyes
Chest 114- Porter Macenor
Chest 115- Ashton Bently
Chest 116- Bella Rose
Chest 117- Brooklyn Tucker
Chest 118
Chest 119
Chest 120
Chest 121
Chest 122
Chest 123
Chest 124
Chest 125
Chest 126
Chest 127
Chest 128
Chest 129
Chest 130
Chest 131
Chest 132
Chest 133
Chest 134
Chest 135
Chest 136
Chest 137
Chest 139
Chest 140
Chest 141
Chest 142
Chest 143
Chest 144
Chest 145
Chest 146
Chest 147
Chest 148
Chest 149
Chest 150
Ad blocker interference detected!
Wikia is a free-to-use site that makes money from advertising. We have a modified experience for viewers using ad blockers

Wikia is not accessible if you've made further modifications. Remove the custom ad blocker rule(s) and the page will load as expected.