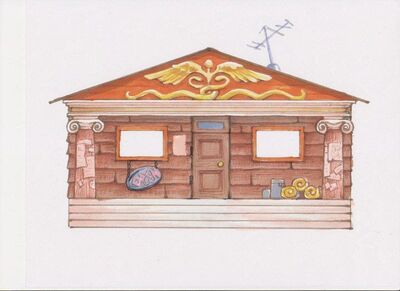 This is Hermes' Cabin, also known as Cabin 11. Hermes, the god of travelers and deliveries, also holds the demigods that have not been claimed yet. They are called "Temporaries." Children of Hermes are called "Regulars." This page contains all powers and abilities Children of Hermes may have.
Parker Reese (Counselor)
Primrose Reese (Counselor)
Travis Stoll (Co-Counselor)
Connor Stoll (Co-Counselor)
   
Powers/Abilities

Edit
All Children of Hermes are extremely fast.
All Children of Hermes have a magic bag that can produce whatever they want.
All Children of Hermes are pranksters.
Most Children of Hermes are extremely stealthy and flexible.
Magical Items
Edit
Chest 410
Chest 411
Chest 412
Chest 413
Chest 414
Chest 415
Chest 416
Chest 417
Chest 418
Chest 419
Chest 420
Chest 421
Chest 422
Chest 423
Chest 424
Chest 425
Chest 426
Chest 427
Chest 428
Chest 429
Chest 430
Chest 431
Chest 432
Chest 433
Chest 434
Chest 435
Chest 436 
Chest 437
Chest 438
Chest 439
Ad blocker interference detected!
Wikia is a free-to-use site that makes money from advertising. We have a modified experience for viewers using ad blockers

Wikia is not accessible if you've made further modifications. Remove the custom ad blocker rule(s) and the page will load as expected.