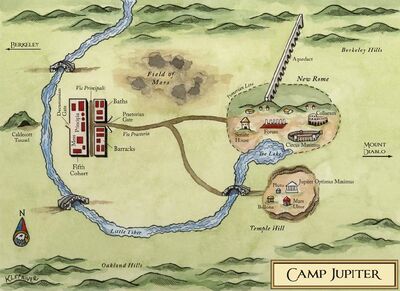 Camp Jupiter is a training Camp for the children of a Roman god and a mortal. You can find the entrance here. It is located in San Francisco, California. Its Greek counterpart is Camp Half-Blood.
Places to Go to
Edit
Caldecott Tunnel
Little Tiber
Principa
Boys' Baths
Girls' Baths
Decumanian Gate
Vic Principalis
Aquaeduct
New Rome
Senate House
Forum
Coliseum
Circus Maximus
The Lake
Temple Hill
Jupiter Optimus Maximus
Bellona Temple
Pluto Temple
Mars Ultor
Ad blocker interference detected!
Wikia is a free-to-use site that makes money from advertising. We have a modified experience for viewers using ad blockers

Wikia is not accessible if you've made further modifications. Remove the custom ad blocker rule(s) and the page will load as expected.