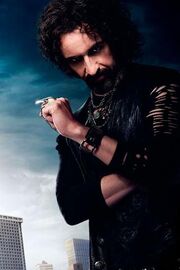 Hades is the Olympian god of the Underworld and the dead. His roleplayer is Miramc22. His cabin is
Cabin 13
.
Relationships With Children
Edit
These are the relationships Hades has with his children. Excellent is an A, good is a B, okay is a C, iffy is a D, and horrible is an F.
Abigail K.- Excellent
Sophia C.- Good
Victoria M.- Good
Steven K.- Excellent
Kali J.- Excellent
Jenna W.- Okay
Scheduled Visits
Edit
None yet!
Places You Can Find Him
Edit
Underworld
Shadow Realm
Throne Room
Ad blocker interference detected!
Wikia is a free-to-use site that makes money from advertising. We have a modified experience for viewers using ad blockers

Wikia is not accessible if you've made further modifications. Remove the custom ad blocker rule(s) and the page will load as expected.