Magie Sands is a fourteen year old daughter of Hecate. Her birthday falls on 8 May.
Biography
Edit
Magie was born to Hecate the goddess of magic but who her dad is is a mystery. Magie has spent most of her life, running away from orphanages until the age of fourteen, when she stumbled across Camp Half Blood and was claimed by Hecate. She claims Hecate has been helping her all along. She really has never had a life and is a deep thinker but has a personality no one, even she, can not understand. Her fatal flaw is her need to help everyone.
Early Life
Edit
Magie has spent all her life running away from orphanages till she literally stumbled across Camp.
No one, she is too forgiving.
Weapons/abilities/flaws
Edit
She fights with a sword and gun.
She can do magic
She is too forgiving and selfless.
She is too trusting.
She is good at running away and thus does not really know herself.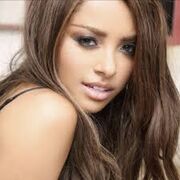 Ad blocker interference detected!
Wikia is a free-to-use site that makes money from advertising. We have a modified experience for viewers using ad blockers

Wikia is not accessible if you've made further modifications. Remove the custom ad blocker rule(s) and the page will load as expected.