Milcan is the name of the Relationship between Mila Robertson and Duncan Martinez .
Dun = Duncan + Mil = Mila == Milcan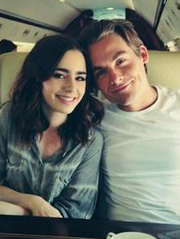 Their Role player is Ivo1011. Their Status : Dating
How They Met...
Edit
In the second year in the Camp for Mila she met Duncan when he came in the camp.They became really good friends .After a year Duncan started to have a crush on Piper McLean and Mila was jealous. So after after a few months Duncan stopped liking Piper and after the summer he noticed how much Mila is changed. So after a few dates he asked her on a date and he was so nervous. She said yes and that night they went on a date in New York. After the dinner they went on a walk in Central Park and there was their first kiss. After that they are still together and are really happy execpt when Duncan is talking to another girls, Mila is freaking out ( hahahahaha :D )
Ad blocker interference detected!
Wikia is a free-to-use site that makes money from advertising. We have a modified experience for viewers using ad blockers

Wikia is not accessible if you've made further modifications. Remove the custom ad blocker rule(s) and the page will load as expected.